Photo above: Ajit Puri, MD, stands in front of one of the two dedicated biplane neuroangiography suites, which provide the crucial imaging needed for the team to offer its minimally invasive endovascular procedures to treat strokes and aneurysms. (Photo by Matt Wright.)
It was a crisp December morning in 2013 and Santosha Adhibhatta was enjoying her regular routine at home in Grafton, Massachusetts with her 18-month-old son when an intense headache erupted. "The pain was like nothing I had ever felt before," she said. "Then I started throwing up."
Adhibhatta quickly called her husband, Syama, and asked him to come home right away. When he arrived, she was in severe distress, unable even to stand up. Her husband whisked her to a nearby urgent care facility, where the physician on duty evaluated her and ordered an ambulance to transport her to UMass Memorial Medical Center.
"I lost consciousness before we got to UMass Memorial," Adhibhatta said. "The next thing I remember was waking up in the ICU after the procedure, with the nurse and my husband standing over me."
STROKE IS A DAILY OCCURRENCE
Someone in the United States suffers a stroke every 40 seconds. Hemorrhagic strokes occur when an aneurysm ruptures and bleeds in the brain, and ischemic strokes occur when a blood clot blocks an artery and starves brain tissue of the blood it needs. No matter the type of stroke, reducing the amount of time it takes to receive treatment is critical to saving lives.
UMass Memorial Medical Center is a certified Advanced Comprehensive Stroke Center, the highest designation a hospital can earn for its stroke care. The rigorous certification process is conducted by The Joint Commission in partnership with the American Heart Association and the American Stroke Association.
"Our program is the epitome of what you would like to see at an academic medical center," said Max Rosen, MD, MPH, FACR, Chair, Department of Radiology at UMass Memorial Medical Center, and Professor, UMass Chan Medical School. "We are providing cutting edge treatment for patients in our community, which is supported by a robust, pre-clinical research program and also by participation in numerous clinical trials that bring access to the latest therapies, techniques and devices to our patients."
In Adhibhatta's case, she had suffered a ruptured brain aneurysm. There had been no warning signs. She had no family history of brain aneurysms, and at 31 years of age, she considered herself an active and healthy person.
At UMass Memorial, Adhibhatta was treated by Ajit Puri, MD, DM, Chief, Division of Neurointerventional Radiology, Director of the Integrated Cerebrovascular Program at UMass Memorial Medical Center, and Professor, UMass Chan Medical School. He performed a minimally invasive procedure using a catheter to implant a small platinum coil in the ruptured aneurysm to stop the bleeding in Adhibhatta's brain.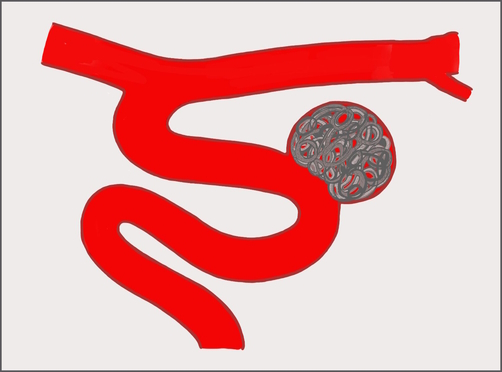 A coil implanted in a ruptured aneurysm to stop bleeding. Illustration courtesy of Dr. Puri.
"I'm not sure there is great awareness of how we treat brain aneurysms today, and how effective the treatments are," Puri said. "We are very fortunate here at UMass Memorial to have access to the latest technologies, often before other centers, because we have a leadership role in developing and proving out these new devices and techniques that benefit patients."
It is estimated that one in 50 people in the United States (two percent of the population) have unruptured brain aneurysms. In most cases these aneurysms – weakened areas of an artery wall that expand like a small balloon – remain undetected until the day they rupture and require emergency intervention.
Dr. Puri and the team treat most ruptured aneurysms with minimally invasive procedures. Using microcatheters fed through an artery in the patient's groin or wrist, they insert a special coil into the ruptured aneurysm to stop the bleeding. A stent may also be implanted near the aneurysm to stabilize the artery and maintain blood flow.
When an aneurysm ruptures, it causes damage in a patient's brain. Because of this, a patient will need to stay in the hospital at least two weeks, and potentially a month or more, to recover. 
DISCOVERY AND DIVERSION OF UNRUPTURED BRAIN ANEURYSMS
Increasingly, more patients are discovering brain aneurysms before they rupture. Typically, these patients seek treatment for severe headaches or trauma, have a CT scan or MRI of the brain and the aneurysm is found.
"When patients come to my clinic with an unruptured aneurysm, I always tell them that you are the lucky ones, because you have found this early and now have more choices," Puri said.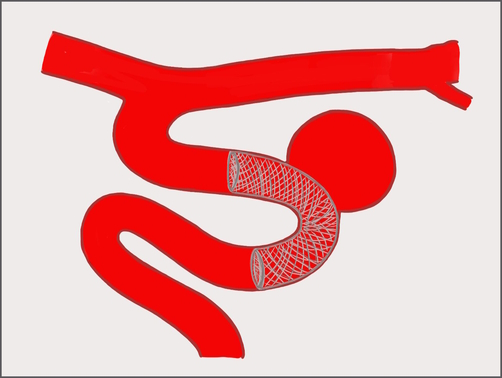 A flow diverter placed across the neck of an unruptured aneurysm. Illustration courtesy of Dr. Puri.
The latest effective treatment for many unruptured aneurysms uses a "flow diverter," which is a small fine-mesh metal tube. Again, using minimally invasive techniques, the diverter is placed in the artery, across the neck of the aneurysm.
"The flow diverter allows the blood to flow past the aneurysm, and it acts as a vascular scaffold for the body's own endothelial remodeling," Puri said. "We have very good data on this. The aneurysm becomes covered with new tissue and eventually it just scars off. Your own endothelium [a single layer of cells that lines vessels and arteries] has done the healing, over the scaffold of the diverter."
Most patients successfully treated with a flow diverter go home the next day, with just an adhesive bandage over the area where the catheter was inserted. They often go about their normal activities without any negative impact or need for physical therapy, Puri said.
DIRECT ACCESS FOR EMERGENCIES
About 87 percent of all strokes are ischemic strokes, which occur when a clot blocks an artery in the brain. "We know that for each minute our brain is not getting blood, we lose two million neurons," Puri said. "That's why we say, 'time is brain' when dealing with stroke, and getting patients treated as soon as possible is the absolute goal."
Puri said the most time-sensitive intervention he does is a mechanical thrombectomy for ischemic strokes – a minimally invasive procedure that removes the clot from the brain. UMass Memorial is one of the busiest centers for stroke thrombectomy on the east coast, with patients supported by comprehensive pre- and post-procedure care.
The medical center has two technologically advanced neurointerventional radiology suites built specifically for minimally invasive neurological procedures. These suites are equipped with the latest imaging technology, including bi-plane suites that allow the neurointerventional radiologist to work with two views simultaneously. The suites also can produce high resolution three-dimensional images to guide procedures in vessels of the brain.
For many years, patients beyond the city of Worcester who were stricken at home or in the community were first taken to the nearest community hospital for evaluation. Then, if necessary, they would be transported to the emergency department at UMass Memorial Medical Center for stroke or aneurysm care.
"When the patients got to our emergency department in Worcester, there would be another evaluation, which added time," Puri said.
To reduce the time to treatment, in 2022 Puri reached out to colleagues in the emergency departments at the Medical Center and regional community hospitals, in addition to clinical system leaders, to develop a new approach. His idea was to allow confirmed stroke patients to bypass the emergency department in Worcester and be brought in directly to the neurointerventional suite. The synergy between the emergency departments, stroke team, post anesthesia care unit, anesthesia teams as well as the neurointerventional radiology advance practice providers, technicians and nurses made this pathway an amazing success to provide the best care in the fastest way possible.
This new protocol is now in place. Puri or another team member remotely reviews assessments and imaging done by physicians in community hospitals. If they concur that the patient is suffering a stroke, then the patient is directly admitted for treatment, bypassing the emergency department intake.
"You can have the best technology and techniques in the world, but if you can't get the patient in for treatment fast enough, then it doesn't matter," Rosen said. "The new direct-to-angio suite protocol Dr. Puri led is a great example of how we are always looking to improve our processes for the benefit of patients.
HOPEFUL FUTURE
After the procedure in 2013, Santosha spent two weeks in the neuro-intensive care unit at UMass Memorial, a specialized facility that provides post-operative care for the many patients treated for strokes and aneurysms at the center each year. She was then discharged home and was followed by UMass Memorial neurologist Majaaz Moonis, MD. "I had my regular follow-up angiograms at six months, then a year, and everything seemed to be fine," she said.
In 2016, she was ready to go back to work. Santosha holds a PhD in physics and took a position teaching at Framingham State University. All was going well, and a five-year follow-up angiogram again showed no problems. Then, in January 2022, Santosha developed symptoms again. "Just like the first time, it started with a bad headache. But this time, we called the neurologist right away," Santosha said.
She went to UMass Memorial Medical Center and a CT scan showed two new aneurysms. One had ruptured, but the second had not. Once again, she was in the hands of Dr. Puri, who used a coil to stop the bleeding aneurysm and implanted a flow diverter to wall-off the unruptured aneurysm.
"The doctors can't say why this has happened to me. We just don't know," Santosha said. "Considering everything that has happened to me, I do feel blessed because Dr. Puri and the whole team saved my life, and I look forward to every day."
In addition to his clinical practice, Dr. Puri and has published extensively in the field of minimally invasive treatments for brain aneurysms and ischemic stroke. He is the co-director of the New England Center for Stroke Research at UMass Chan Medical School.
"Some of the latest techniques and devices used across the country today were developed here at the Medical School," Rosen said. "We are one of a few institutions in the country that has this translational clinical research model. And because of Dr. Puri's reputation, a lot of these companies and registries running clinical trials come to UMass and want us to participate. This all has a direct impact on patient care."
As a result, patients at UMass Memorial have access to the latest and best treatments in minimally invasive neurointerventional therapies years before they become standard practice and more widely available. Patients come from across Massachusetts and beyond for Dr. Puri's expertise.
View more stories of healing, advancing medicine and innovating from UMass Memorial Health.