Photo above: From L to R: Jennifer Walker, MD, Nikolaos Kakouros, MD, PhD and Jae-Yoon Park, MD insert a catheter into a patient undergoing the TAVR procedure while Richard Tenure, MD monitors the patient under anesthesia. (Photo credit: Matt Wright.)
When Laura Aldrich underwent a transcatheter aortic valve replacement at UMass Memorial Medical Center in October 2022, the outcome far exceeded her expectations.
"TAVR didn't just save my life," Aldrich said. "It gave me back a quality of life I had forgotten I could even have."
TAVR, a minimally invasive aortic valve replacement procedure, has revolutionized severe aortic stenosis treatment, particularly for patients who are not surgical candidates. UMass Memorial, which recently performed its 1,000th TAVR procedure, is the first program in New England to implant the new generation SAPIEN 3 Ultra RESILIA valve in a patient with aortic stenosis, as well as one of the few institutions in the country participating in a clinical trial testing the effectiveness of new technology for aortic valve replacement.
"Previously, the only option for these aortic stenosis patients was open heart surgery, and for many of these patients, surgery was not an option and their mortality rate with medical therapy was very high," said Nikolaos Kakouros, MD, PhD, Director, Structural Heart Disease Program, Medical Director, Transcatheter Aortic Valve Replacement Program and Associate Professor, UMass Chan Medical School. "This has been an amazing paradigm shift in just 10 years to where we are today, with TAVR offering these same patients reduced mortality, shorter hospital stays, faster recovery times and excellent outcomes."
New hope for patients with aortic stenosis
Aortic stenosis, a progressive disease that leads to narrowing of the aortic valve opening, presents dismal outcomes without intervention: survival after onset of symptoms is 50% at two years and 20% at five years.[1] Surgical aortic valve replacement has been the standard of care for decades, but surgery is not available for many patients due to age, frailty, or comorbidities, and may not be a preferred choice for those for whom a six- to 12-week surgical recovery would be a hardship.
"A big part of the success of the TAVR program is the thoughtful and collaborative approach among our team of cardiologists and surgeons in determining if TAVR is the best treatment approach," said Jennifer Walker, MD, Surgical Director of UMass Memorial's Transcatheter Aortic Valve Replacement Program and Professor, UMass Chan Medical School. "We put the patient at the center of that decision process and are in constant communication with the referring cardiologist to ensure we are working together to make the best decision for the patient."
Aldrich, now 67, discovered that she had heart disease in her 20s, forcing her to medically retire from the US Air Force at only 29 years old. Her aortic stenosis symptoms — fatigue, shortness of breath and chest pain — became more severe over the decades until this once vibrant, active woman had become sedentary, unable to even walk up a few stairs without having to stop to catch her breath. Deemed an excellent candidate last year, Aldrich was thrilled at the option of the TAVR procedure at UMass Memorial.
"I woke up from the procedure and right away I noticed, 'I'm not short of breath!' The relief was immediate and life changing," she said. "It was like an elephant had taken its foot off my chest."
The success of the TAVR program stems from advancements in both the devices and technique. During TAVR, an interventional cardiologist and cardiac surgeon work as a team to implant a new valve inside the damaged aortic valve using a catheter, usually inserted through the vessels at the top of the leg. Once in place, the new valve is opened and sealed, without the need to remove the original valve. TAVR can be performed under local anesthesia and sedation, reducing the risk of bleeding and vascular complications, and allowing for faster recovery and shorter hospital stays.
"The development of the latest iterations of the transcatheter valves has significantly reduced the occurrence of paravalvular leak and demonstrated excellent long-term outcomes, while the improved tissue on the Edwards SAPIEN 3 Ultra RESILIA is expected to minimize valve deterioration from calcification," said Waqas Qureshi, MD, Interventional/Structural Cardiologist, Director of Cardiac CT/MRI at the Medical Center and Associate Professor, UMass Chan Medical School. As an alternative to the SAPIEN 3, physicians are also experiencing success with the Medtronic CoreValve, which is self-expanding, as opposed to the balloon-expandable SAPIEN 3.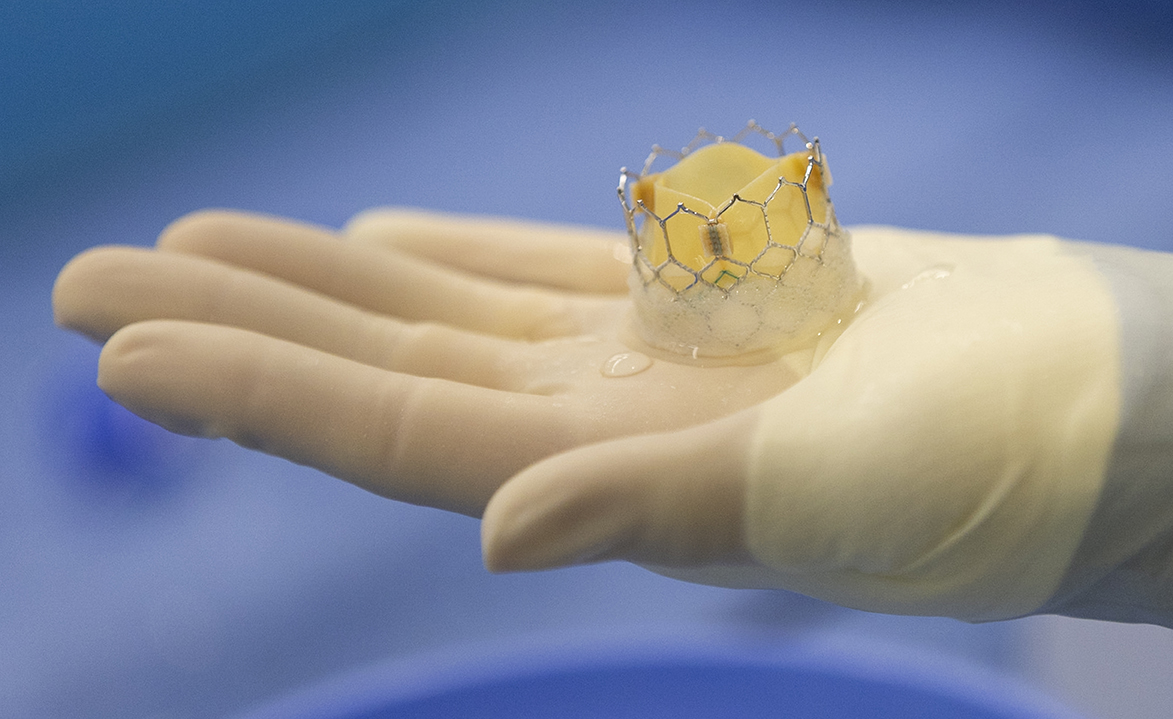 With new, thinner catheters, doctors can insert the valve through the peripheral vessels with no incisions. "It is similar to having a large IV," Qureshi said. "Patients go home the next day with just a band-aid to show for their aortic valve replacement." Physicians performed the first TAVR procedure at UMass Memorial in 2013 and have performed more than 1,000 over the past 10 years.
Outcomes exceeding expectations
Outcomes from the clinical trials — for patients at high-, medium- and low-risk — have exceeded expectations. The UMass Memorial TAVR program outcome data has shown:
Risk standardized mortality 13% lower than the national average

Risk standardized stroke 29% lower than national average

Lower complication rates than the national average, including

procedural cardiac events, acute kidney injury, bleeding, vascular complications and moderate (or more) aortic regurgitation
"No one believed this could work as well as it has," Kakouros said. "TAVR has been able to match surgical outcomes regarding mortality and stroke. And the patients feel much better, faster, without having to recover from open heart surgery."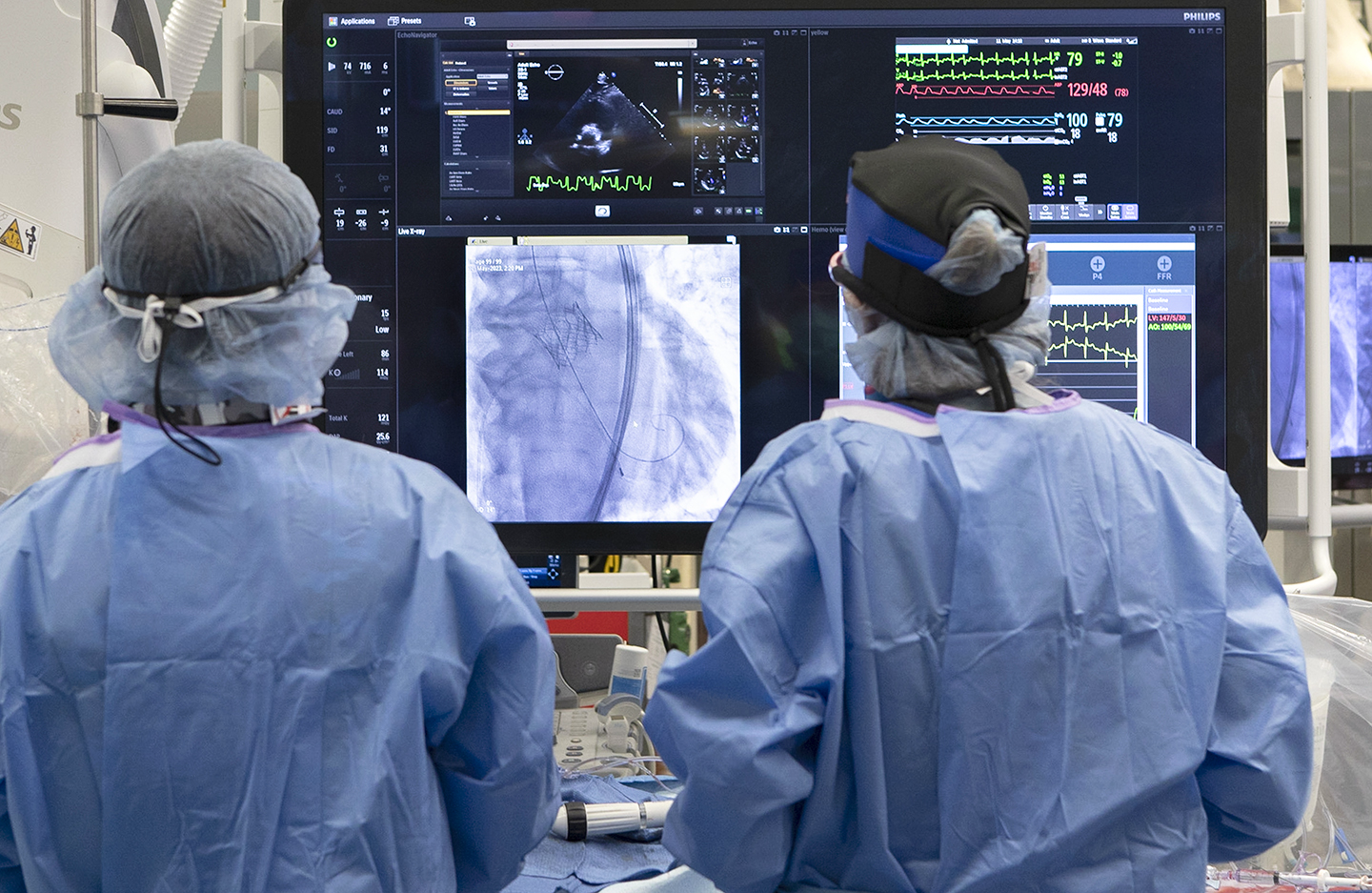 Based on its success, UMass Memorial has been certified by the American College of Cardiology (ACC), achieving a 3-star rating — the highest possible rating — for TAVR outcomes in the Society of Thoracic Surgeons–American College of Cardiology Transcatheter Valve Therapy (TVT) Registry, which monitors patient safety and outcomes. It is also the only center in Massachusetts to have TAVR certification by the ACC.
For Aldrich and hundreds of patients like her, the outcomes are truly remarkable. Only months after her TAVR procedure, she is back to taking long walks with her husband, traveling, walking up and down stairs with ease and spending quality time with her three active grandchildren.
"I am so grateful for everyone at UMass Memorial for giving me my life back," she said. "After so many years of 'No, I can't do that,' now it's 'Yes, I can!'"
View more stories of healing, advancing medicine and innovating from UMass Memorial Health. 
_____________________________________
[1] Clark M, Arnold S, Duhay F, Thompson A, et al. Five-Year Clinical and Economic Outcomes Among Patients with Medically Managed Severe Aortic Stenosis: Results from a Medicare claims analysis. Circulation: Cardiovascular Quality and Outcomes. 2012.