Photo above: (From left to right): Julianne Lauring, MD and Teresa Blass, RN demonstrate a TeamBirth huddle.
Seventy percent of labor and delivery patients who participated in the inaugural year of UMass Memorial Health's TeamBirth program reported that sharing their preferences made a significant difference in the care they received. Clinical teams that huddled with patients earned scores between 91% and 96% in each of the seven categories on the Mothers Autonomy and Decision Making (MADM) scale.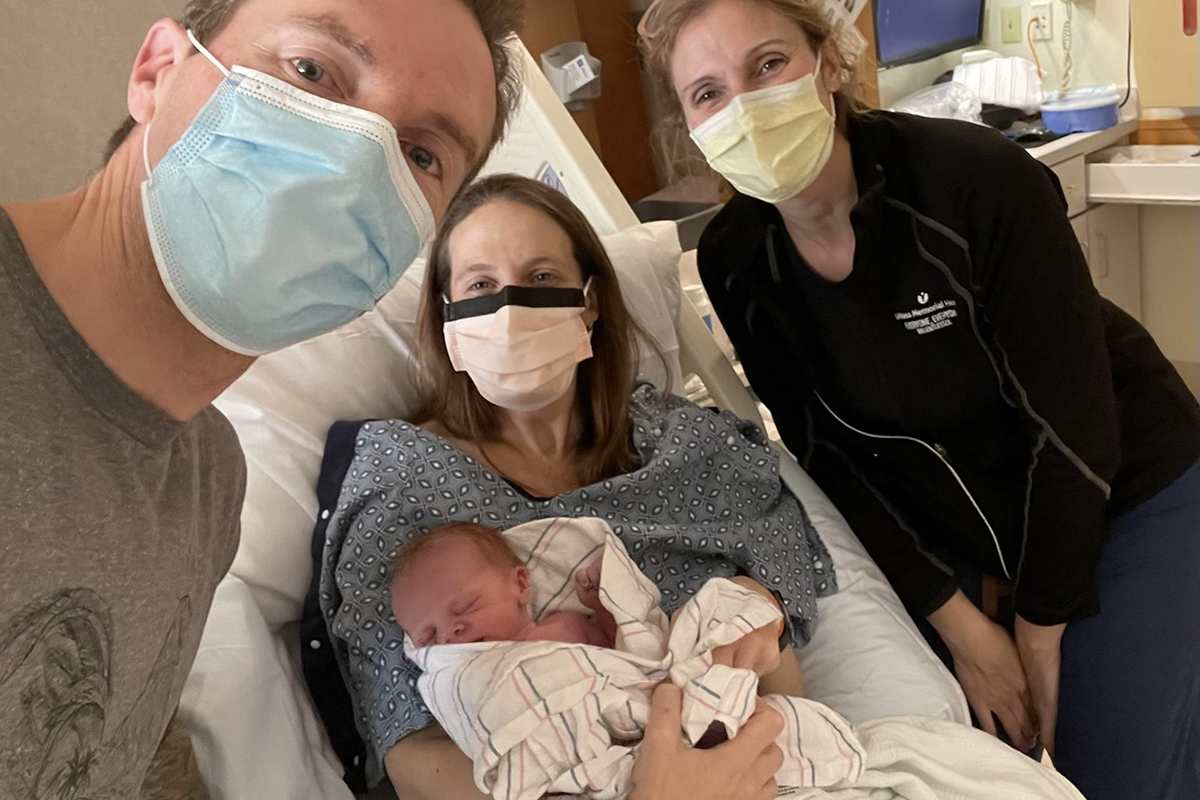 When Kristina Gracey, MD, MPH, gave birth to her third child, Jacqueline, at UMass Memorial Medical Center in January 2022, she had the opportunity to receive care through a new model called TeamBirth, which was introduced at UMass Memorial Health in 2021.
With TeamBirth, clinicians met in team "huddles" with Gracey and her husband to discuss her preferences for her birthing and postpartum experience. Those preferences, along with the names of all team members — including her husband Daniel Gracey, her family medicine physician Stacy Potts and nurse Trish Knight — and the labor status of Gracey and her baby, were clearly outlined on a white board in her hospital room and updated regularly.
"With the entire team communicating and being aware of what was important to me, I was able to have the exact delivery experience I was looking for — before, during and after the birth," she said. "I had a voice in my delivery, and my voice was heard. This was truly a patient-centered experience."
Gracey has experienced the TeamBirth model not only as a new mother, but also as a Family Medicine physician who provides prenatal care, deliveries and newborn care at the Barre Family Health Center, which is affiliated with UMass Memorial. Gracey, who helped implement the TeamBirth initiative, has witnessed its positive impact on her patients.
COMMUNICATION IS CENTRAL 
TeamBirth, launched in May 2021 through a collaboration with Ariadne Labs and UMass Memorial Health, aims to improve both safety and dignity in childbirth by structuring the essential information that should be communicated during every birth experience. By the end of 2022, Ariadne will have TeamBirth collaborations in 43 hospitals across the U.S., reaching more than 160,000 births.
Communication is at the heart of the TeamBirth program. The model uses tools such as birth plans, storyboards and repeated huddles that must include the patient, the family and at least one physician and one nurse from the clinical care team. They also discuss the patient's personal and cultural preferences. This ensures that all parties have the same understanding and are on the same page.
Recognizing the importance of this care model for postpartum patients, UMass Memorial implemented the TeamBirth model for postpartum care from the start of the program. More recently they brought the model into the neonatal intensive care unit as well.
Better birth experiences
During the first year of the TeamBirth initiative at UMass Memorial, 70% of patients who experienced huddles (both labor and delivery and postpartum) reported that sharing their preferences "definitely made a difference" in their care. In contrast, only 45% of those patients who did not experience huddles reported that sharing preferences made a difference in their care. This was based on 751 patient surveys from April 2021 through March 2022.
In addition, clinical teams that huddled with patients earned scores between 91% and 96% in each of the seven categories on the Mothers Autonomy and Decision Making (MADM) scale, which looks at the level of autonomy and agency a patient experiences while participating in decision-making conversations about their care. Scores were higher in every category for patients who answered the survey and reported having huddled with their clinical care teams compared to those that did not.
"Our patients who experienced huddles self-reported that they felt they were heard, had more autonomy and overall had a better birth experience," said Tiffany Moore Simas, MD, MPH, MEd, Chair of the Department of Obstetrics and Gynecology and Professor at UMass Chan Medical School. "This is significant, because knowing a patient's preferences makes a difference not only in their experience and perception of the birth, but also in outcomes. Communication interventions are quality and safety interventions, and we are hopeful they will also improve equity."
Patients' comments on surveys reflect the impact of the huddles.
"The doctors, including the residents, were amazing in explaining things during my induction and listening to my concerns or questions," said one UMass Memorial TeamBirth patient. "They truly made me feel heard and valued during my experience."
Improved Patient and Team Relationships
"TeamBirth involves purposeful discussions with the patient at the center, focusing on what we are doing for the patient, what we are doing for the baby and what we are doing for the labor progress, which as all related but separate," Moore Simas said. Discussions are recorded on a white board that tells the story of the birthing experience and is updated regularly with decision points or changes in the plan. 
For Julianne Lauring, MD, Medical Director of the Maternity Center and Physician Quality Officer, UMass Memorial Health, the TeamBirth initiative has dramatically changed how she interacts with her patients and has improved the quality of her patient relationships.
"As physicians, we all thought we were doing this well before. But there is something fundamentally different when the conversation is truly centered on the patient and gives your patient a voice. And patients are so much more willing to listen to you because you have listened to them," said Lauring, who is also an Assistant Professor at the UMass Chan Medical School. "It changes the relationship and allows you to truly connect with your patient in a way you haven't before. Until we started this program, I don't think we realized how powerful that can be."
As a result, caregivers are also reporting a more positive experience as clinical teams operate more cohesively with improved communication and coordination.
Addressing health inequities and looking ahead  
The TeamBirth initiative made great strides in its first year, and the team at UMass Memorial plans to take the initiative even further as it continues.
They are seeking to further address health inequities — particularly language barriers for non-English-speaking patients. While support materials are translated and interpreters are present to translate, the white board is still written in English. The team is working to pilot a digital version of TeamBirth that would translate what is written on the white board into the patient's native language.
"Medicine in general, and maternity care in particular, are plagued by inequities in care and many of our most vulnerable patients are less likely to have been given a voice or feel their voice has been heard," said Gracey, who considers herself fortunate to have had such a positive birth experience through TeamBirth. "Because TeamBirth is a team-based, patient-centered approach, it creates a safe and intentional space where all patients are more likely to vocalize and express their preferences. By asking those questions in a team-based way, and by putting those preferences on the board, we are able to ensure those needs are met. The major benefit of TeamBirth is that we keep the patient and their preferences at the heart of what we do."
View more stories of healing, advancing medicine and innovating from UMass Memorial Health.