Photo above: As Angela Beeler, MD, (right), Chief, Division of General Pediatrics, UMass Memorial Health, talks with patient Jerick Velez and his mother, Natasha Cancel, about his health, she also asks whether a free transportation option would make it easier to get Jerick to and from appointments.
An analysis of UMass Memorial Health patient data revealed disparities in pediatric well-visit adherence rates, based on race and ethnicity. During the 12-month span used as a baseline, 58% of Black patients and 64% of Latino patients had their annual well-child visit, compared with 72% of white patients. Multifaceted interventions effectively reduced the gaps between white, Black and Latino children. As of September 2021, teams in pediatrics and family medicine had conducted well-child visits with 72% of Black patients and 74% of Latino patients, far exceeding initial goals and narrowing the overall disparity between Black, Latino and white children.
Well-child visits are among the most essential tools for maintaining and improving children's health and well-being. Yet an examination of UMass Memorial Health pediatric data revealed that adherence rates for these routine appointments varied significantly by race and ethnicity, with Black and Latino patients attending at lower rates than white patients.
An interdisciplinary UMass Memorial Health team took an innovative next step by using the data to specifically address the disparities revealed, said Arvin Garg, MD, MPH, a pediatrician and Associate Chief Quality Officer for Health Equity at UMass Memorial.
"Our data analytics team created robust dashboards with real-time, practice-level data to illustrate the disparities, highlight the need for change, and help clinicians and staff design and implement interventions — and then keep track of their progress," he said.
The multistakeholder project — called "Prioritizing Child Health: Promoting Adherence to Well-Child Visits in an Urban, Safety-Net Setting, During the Height of the COVID-19 Pandemic" — helped close the gaps and improved well-child visit adherence among all groups. In 2021, it won the inaugural Bernard J. Tyson Award for Excellence in Pursuit of Healthcare Equity. Results were published in the Joint Commission Journal on Quality and Patient Safety in April 2022.
"Without the data to show us where we're improving, we'd just be guessing," Garg said. "With the data, we can identify specific barriers and identify potential solutions. Improving adherence to well-visits among patients of color represents a unique opportunity to improve the health of children, address social determinants of health, reduce racial/ethnic disparities in health care access, and promote population health."
Making advances in health equity in care and outcomes
The project originated in 2020. After the murder of George Floyd and the Black Lives Matter protests that followed, Eric Dickson, MD, President and CEO of UMass Memorial, charged leadership with identifying opportunities to promote equity in health care access and outcomes across the system.
"When it comes to health equity, pediatrics is critically important, and we wanted to focus on an area with potential to have a significant impact on health," said Lawrence Rhein, MD, MPH, Chair, Department of Pediatrics, and Associate Professor, UMass Chan Medical School.
Pediatrics also offered a significant amount of data to explore. The 53 Central Massachusetts practices associated with UMass Memorial serve 40,000 patients ranging from infants to 21-year-olds.
"We always had data on children's well visits," said Tracey Wilkie, Senior Director, Population Health Reporting & Analytics, Office of Clinical Integration, UMass Memorial. "But we hadn't examined it based on race and ethnicity."
During the year leading up to October 2020, which was used as a baseline, only 58% of Black patients and 64% of Latino patients had their annual well-child visit, compared with 72% of white patients. With clear evidence of a health equity gap, the team set a goal of increasing the numbers of well-child visits to 64% for Black patients and 69% for Latino patients.
By September 2021, teams in pediatrics and family medicine had conducted well-child visits with 72% of Black patients and 74% of Latino patients, far exceeding the initial goals. The effort also narrowed the overall disparity between Black, Latino and white children. 
"We haven't completely closed the gap yet," said Eric Alper, MD, UMass Memorial's Chief Quality Officer and Chief Informatics Officer. "But we've made significant progress, and we can improve further by continuing to focus on this issue."
Identifying obstacles to well-child visit adherence
As a safety-net hospital system, UMass Memorial serves many low-income families and families of color who face challenges related to social determinants of health. The presence of racial and ethnic disparities in adherence to well-child visits didn't come as a surprise to stakeholders.
"We didn't know the full range of issues that could lead to missed appointments and feed these disparities," said Josephine Fowler, MD, Clinical Vice Chair, Department of Family Medicine, UMass Memorial Health, and Professor, Family Medicine and Community Health, UMass Chan Medical School.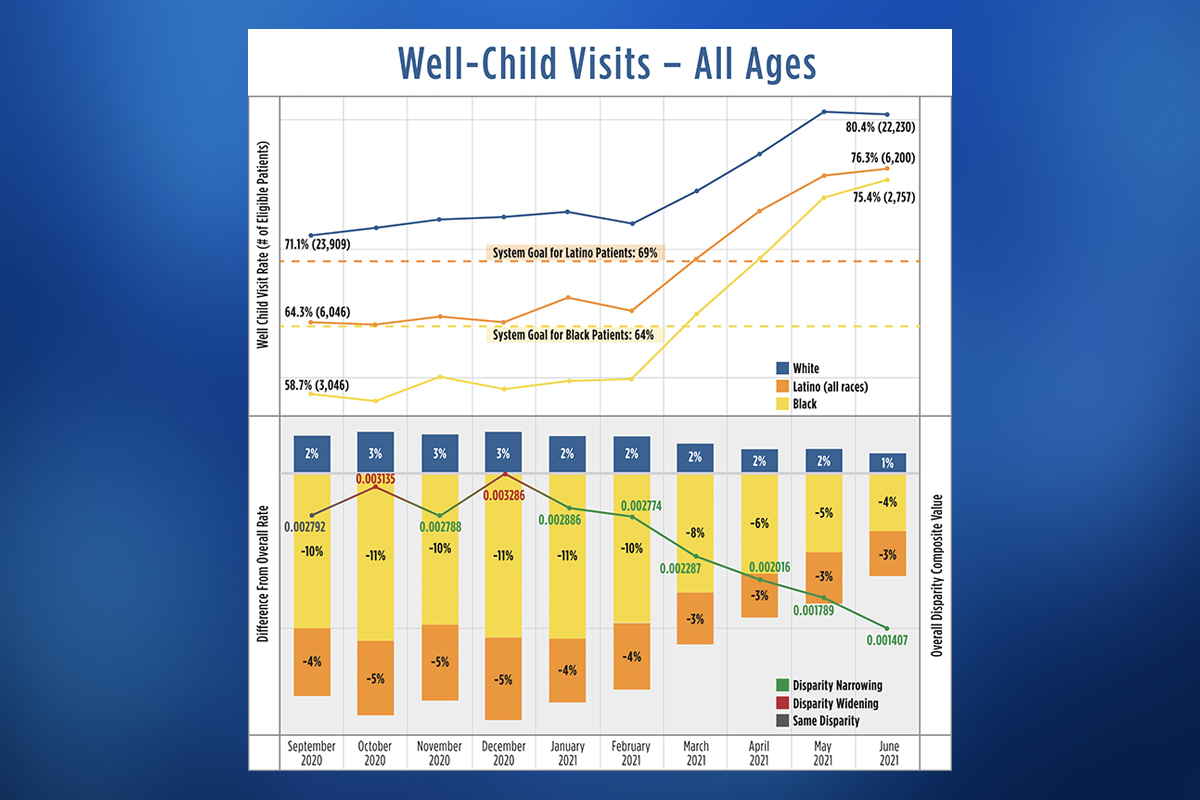 The team decided to survey families to find out. To recruit patient/family volunteers to participate in the project, the UMass Memorial team enlisted the support of researchers at Massachusetts Health Quality Partners (MHQP), an independent, nonprofit organization dedicated to improving patient care experiences in the state. MHQP was tasked with surveying 30 people from a list of 3,000 provided by UMass Memorial.
Two senior MHQP researchers conducted interviews in English, and MHQP contracted two bilingual researchers with a background in public health to schedule and conduct interviews in Spanish. They conducted one-on-one interviews with 15 English speakers and 15 Spanish speakers. Twenty-eight of the interviews were with parents/guardians; two were with young adult patients.
The survey results confirmed the anecdotal reports from physicians and staff across the UMass Memorial system. The most frequently reported obstacles to parents bringing their children to well visits included:
Transportation

Cost of parking

Competing demands (e.g., lack of time off from work)

Inconvenient office hours and availability of appointments

Language barriers

Patients becoming young adults (ages 18-21)
"The interviews showed us exactly what our patients and families are dealing with," Fowler said. "Parents have other children who can't come to appointments with their sibling because of COVID, and there's no one to care for them at home. Parents need to work and don't have the option for taking an afternoon off. They often lack transportation. While many of us think of $7 for parking or $12 for a taxi as nominal fees, those are significant costs for people without a lot of financial resources. If they have to choose whether to put food on the table or go to a well visit, they're going to choose food."
Recommending ways to improve access to care
After identifying the reasons for the discrepancies in well-child visit adherence, the team focused on developing interventions, without making judgements or assumptions about a family or patient.
"What if someone says they can't get to an appointment? I might assume it's because there isn't enough parking or parking is too expensive," Rhein said. "But what if they don't have a car? We can give out parking vouchers all day and it won't make a difference. Instead, we can look at bus routes, and alternate transportation such as a taxi or ride services."
The UMass Memorial team made a variety of recommendations for improving access and family participation in well-child visits both during and after the COVID-19 pandemic. Practices were free to take the ideas and adapt them, or come up with solutions better suited to their patient population.
Schedule the next well-visit at the time of the current visit

Develop an information sheet on the importance of preventive care visits

Distribute to patients and families at acute-care appointments

Post in exam rooms, in myChart (patient portal) and on the UMass Memorial website

Provide translations in languages relevant to the patient population

Encourage follow-through on recommended care by implementing a reminder system and call process

Consider staff calls in addition to automated reminder options

Conduct well-child exam during acute-care visits, for patients who are behind on the recommended well-child visits or who don't have a future visit scheduled

Use telehealth for well-child visits when in-person exams are not feasible

Develop a template specifically for well-child visits

Implement a missed-appointment letter system that highlights the importance of preventive care visits 

Expand or extend office hours to align with family scheduling needs, including possible staggered shifts to accommodate expanded office hours and weekend hours

Provide a voucher for free parking or arrange for curb-to-curb transportation through Medicaid
"Some of these interventions, even if they seem simple, require investment and cooperation from everyone from front-line office staff to physicians to executive leadership," Garg said. "They require all of us — across the whole health care system — to come together and work toward a common goal of improving care for all children in our communities."
The project team went through multiple plan-do-study-act (PDSA) cycles to improve interventions incrementally. The Lean model of continuous quality improvement, which relies heavily on PDSA cycles, to achieve iterative gains is widely used at UMass Memorial.
"With the real-time analytics dashboards and front-line staff able to see what's working or not working in individual practices, we have the opportunity to try different approaches and keep moving ahead with more and more effective solutions," Rhein said.
While the project team was able to reduce the gap in well-child visits significantly, the work to close it entirely continues.
Fowler emphasized that achieving positive outcomes depends on adapting approaches to individual situations to ensure that care is not just equal, but also equitable.
"Equal care means everyone gets the same amount of care. To have equitable outcomes, we need to go beyond equal care," she said. "We need to make sure our approach is the best one for the individual patient to achieve a positive outcome, and that can be different for different people."
View more stories of healing, advancing medicine and innovating from UMass Memorial Health.